At the time of injection, Case was a 37-year-old self-employed cable worker (heavy manual labor) with a 6-year history of recalcitrant bilateral Carpal Tunnel Syndrome, exacerbated 6 months prior to his first visit with us.  He wore night splints for 6 months but became less effective. He also tried chiropractic treatment without success.  

We did a triple-blind study (neither Dr. A, nor the patient, nor Dr. Savage, who did the EMG/NCS) knew which treatment Case received in which carpal tunnel.  One side got PRP around the nerve and another got Normal Saline.  He did nerve and tendon glides post-injection.  We followed him with the Boston Carpal Tunnel Questionnaire (a clinical outcomes measure), Ultrasound (for the anatomy of the nerve), and EMG/NCS (measures nerve function) out to one year.

At 6 months, we unblinded the study and found that the PRP side had almost no pain.  We then injected the NS side with PRP and had a significant reduction in pain.  By 12 months, the initial PRP side had absolutely no pain. 
Symptom severity is a subset of the Boston Carpal Tunnel Questionnaire. The initial PRP side had almost no symptoms at 6 months and none at 12 months.  The initial NS side (followed by PRP at 6 months) was approaching no symptoms 6 months after the PRP injection.  Similar to the initial PRP side.  More importantly, when compared to surgical outcomes, at 12 months, the initial PRP side had as good or better results than surgery!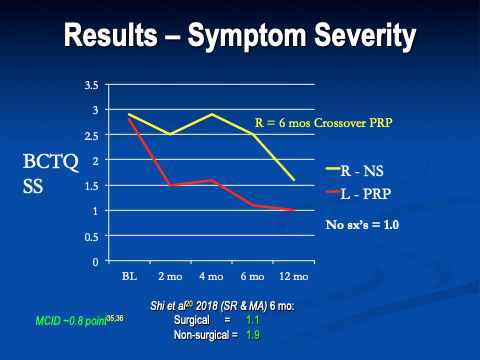 Functional status had similar findings.  There were only minimal symptoms by 12 months on both sides.  This is better than the surgical outcomes.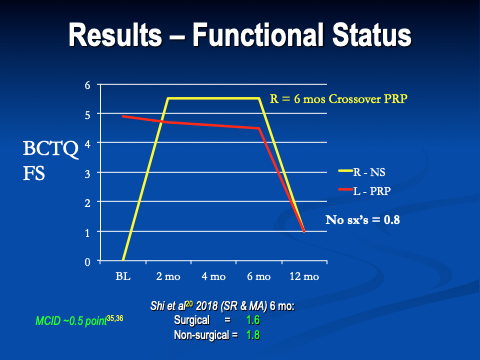 Here's an example of an NCS finding.  Motor amplitude became normal.