Not Just For Professional Athletes
Platelet rich plasma (PRP) therapy has become more widely known thanks to the increased use of PRP treatments by professional athletes. While these athletes have brought biologics into the mainstream, the success of these treatments can help you, too.
If traditional treatments are not an option, or if they have failed for you in the past, PRP therapy may be the answer you've been looking for.
Your life shouldn't be restricted by injury or a degenerative condition. Advanced regenerative medicine treatments can help you move better, feel better and live better.
PRP Injection And Regenerative Medicine
PRP injections were first used in maxillofacial and plastic surgery in the early 1990s. PRP became a part of regenerative orthopedics because it's natural, safe, cost-effective and readily available. PRP treatments can be effective in healing orthopedic injuries and chronic pain and are also used in aesthetic procedures.
Since 2007, Dr. Albano has used PRP therapy to boost his patients' natural healing processes through targeted PRP injections and help get them back on the path to health and wellness.
How It Works
Your blood is made up of red blood cells, white blood cells, plasma and platelets. A person's average platelet count is typically between 150,000 and 450,000 per cubic centimeter. After we draw your blood, we concentrate these platelets to at least four or five times your normal baseline level.
When re-injected, these platelets release a multitude of growth factors that initiate a flood of healing cells – including regenerative cells. This kicks your body's healing response into overdrive, helping you heal through your own biologics.
Three Components Necessary For Healing
We can use a variety of orthobiologics to take full advantage of different healing properties. These tissues are processed on-site and re-implanted on the same day. Typically, you are in the office for one to three hours.
Anti-Inflammatory Drugs Prevent Healing
For years, the conventional wisdom has been that inflammation is bad – and that you should do everything possible to avoid it. The medical establishment has reinforced the importance of reducing inflammation and relied on the liberal use of non-steroid anti-inflammatory drugs (NSAIDs) like ibuprofen and naproxen, or steroids, to battle this natural bodily response.
We now know that inhibiting your body's natural inflammatory response slows the healing process by preventing repair cells from reaching your injury.
Conditions That May Benefit From PRP Treatment
We understand that pain can make the everyday activities you enjoy difficult and unpleasant. Thankfully, PRP therapy and regenerative biologics may be able to significantly decrease the pain and discomfort you are experiencing and help you move better, feel better and live better.
The following are just some of the many injuries and conditions that could benefit from regenerative medicine therapy, PRP injections, and other regenerative biologics treatments.
Tendon Injuries
Tennis or Golfer's Elbow
Rotator Cuff (shoulder)
Patellar and Quadriceps Tendons (knee)
Achilles
Gluteus Medius Tendon (lateral hip)
*Treated injuries include tendinosis, partial thickness tears and full thickness tears that are not significantly retracted.
Ligament Injuries
MCL (knee)
LCL (knee)
Lateral Ankle
Ulnar Collateral (Pitcher's Elbow and Gamekeeper's/Skier's Thumb)
Sternoclavicular Joint (chest)
Acromioclavicular Joint (top of the shoulder)
*Treated injuries include chronic and acute sprains.
Muscle Injuries
Hamstrings and Quadriceps (upper leg)
Biceps and Triceps (arm)
Gastrocnemius and Soleus (calf)
Intercostals (ribs)
*Treated injuries include chronic muscle fibrosis (scarring) and acute muscular tears or strains.
Cartilage Conditions
Osteoarthritis
Meniscal Tears (knee)
Labral Tears (shoulder, hip)
Chondromalacia Patella
Osteochondral Defects
TFCC Tear (wrist)
Costochondritis (ribs)
Nerve Injuries
Carpal Tunnel Syndrome (wrist)
Cubital Tunnel Syndrome (elbow)
Tarsal Tunnel Syndrome (foot)
Sciatic Nerve (buttocks)
*Injuries treated include mild to moderate compression neuropathies.
Aesthetic Treatments
Microneedling with PRP Facial
Microneedling with PRP for Breast Lift
Microneedling with PRP for Hair Loss
Sexual Health
O(hh) Shot (for incontinence and sexual orgasm for women)
Penile Shot (for penis health for men)
Other Injuries
Plantar Fasciosis
Shin Splints (Medial Tibial Stress Syndrome)
Patellofemoral Pain (knee)
Stress Fractures
Turf Toe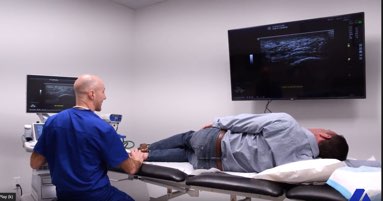 Recognized as a pioneer in his field and held as a leading expert in musculoskeletal ultrasound guidance for orthopedic cellular therapy, Dr. Joseph Albano's focus on innovation has kept him on the cutting-edge of regenerative medicine.
For cell injections to be effective, the correct location of each injection has to be exactly pinpointed and the placement of the cells into the tissues needs to be precise.
These precise injection guidance techniques guarantee that each and every treatment is delivered to the optimum spot to promote healing.
As a leader in the field, he also regularly teaches courses around the country on the use of musculoskeletal ultrasound guidance for diagnostic and needle-guided purposes.
Since 2007 Dr. Joseph Albano's patients have gone on to move better, feel better and live better thanks to regenerative medicine and the healing power of targeted regenerative cell treatments.
Stop giving restrictive injuries and debilitating pain control over your life.
With a little help from Dr. Joseph Albano and targeted orthopedic cellular treatments, you have the power to heal, feel stronger than before and return to the life you love.
Find out if Regenerative Orthopedics and Cell Therapy are right for you.