Thanks to advanced stem cell treatment options, your body's natural healing mechanisms can be harnessed, concentrated and specifically targeted to help you move better, feel better and live better — faster.
Dr. Joseph Albano's targeted stem cell procedures can help you feel stronger than ever and get you back to doing what you love.
Stem cell therapy has rapidly become a vital alternative for patients who once only had the option of surgery. From elite athletes to weekend warriors, Dr. Albano's patients have consistently benefited from the transformative power of stem cell treatments.
There are two different types of cells used in stem cell therapy: autologous and allogeneic cells. Autologous cells are orthobiologics* that come from your own body. Allogeneic cells are obtained outside the body from a variety of sources. To ensure maximum healing potential, each and every injection is precisely placed using either
ultrasound or fluoroscopy technology. In addition to stem cell injections, bridge treatments such as PRP, prolotherapy and hyaluronic acid injections can help you get through your ski season or big match — or even help you manage an injury until you're ready for a full treatment.
* Orthobiologics are a spectrum of concentrated cells, including stem cells and platelet rich plasma, that are injected into injured or affected areas to boost the body's natural healing process.
As no two injuries or people are exactly alike, Dr. Albano customizes each orthobiologic injection to best fit the needs of his patients.
The type and course of treatments vary from person to person and the range of recovery is based on the "strength" of the material injected. Most treatments range between the "better" and "best" options, however, every treatment plan is personalized to fit each patient's individual needs.
After your treatment, your body will continue to heal over time. Many patients experience a plateau in the healing process at four months, but some continue to heal over the next year.
Dr. Albano and his experienced staff will walk you through the treatment process, providing clear guidance and understanding as you take the steps back to the active life you love.
Best

Includes any of the following: Prolotherapy, PRP, AFG, BM, Exosomes, Umbilical Cells and/or Subchondral Placement

Better

Includes Prolotherapy, PRP, AFG, Exosomes and/or Umbilical Cells

Good

Includes PRP, Prolotherapy or Amniotic Cells
Autologous Stem Cell Therapy
(orthobiologics from your own body)
Allogeneic Stem Cell Therapy
(orthobiologics not from your own body)
(help you get through, shorter recovery time)
I've learned a great deal helping professional athletes recover from injuries to get back out on the playing field. Many times there is a rush to surgery and an over reliance on band-aid fixes like anti-inflammatory drugs and steroids. As an endurance athlete myself, I know what a setback an injury is and how frustrating it can be to be treated like a body part and not a whole person. In my practice, I have created a whole-body approach that looks at all aspects of what's behind your injury or condition and employ a wide range of tools.— Dr. Joseph Albano, M.D.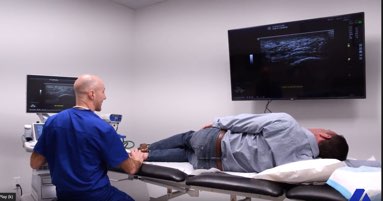 Recognized as a pioneer in his field and held as a leading expert in musculoskeletal ultrasound guidance for orthopedic stem cell therapy, Dr. Joseph Albano's focus on innovation has kept him on the cutting-edge of regenerative medicine.
For stem cell injections to be effective, the correct location of each injection has to be exactly pinpointed and the placement of the cells into the tissues needs to be precise.
These precise injection-guidance techniques guarantee that each and every treatment is delivered to the optimum spot to promote healing.
As a leader in the field, he also regularly teaches courses around the country on the use of musculoskeletal ultrasound guidance for diagnostic and needle-guided purposes.
Since 2007 Dr. Joseph Albano's patients have gone on to move better, feel better and live better thanks to regenerative medicine and the healing power of targeted stem cell procedures.
Stop giving restrictive injuries and debilitating pain control over your life.
With a little help from Dr. Joseph Albano and targeted orthopedic stem cell treatments, you have the power to heal, feel stronger than before and return to the life you love.
Find out if stem cells are right for you.